Plumbing Issues? Call Mammoth, Today!
Plumbing repair services are essential for homeowners facing a wide range of plumbing issues. Whether it's a leaking pipe, a clogged drain, a malfunctioning water heater, or any other plumbing-related concern, our professional plumbing repair services offer the expertise and equipment needed to diagnose and resolve issues efficiently.
Our team of professional plumbers provides prompt, reliable solutions to address your plumbing problems, ensuring the comfort, safety, and functionality of your home. Our plumbing repair services help prevent further damage, water wastage, and potential health hazards while restoring your peace of mind.
Don't let plumbing problems disrupt your daily life any longer. Contact us today at 281-398-1700 for your free estimate, and let our expert plumbers restore your home's plumbing system to peak performance.
Request Your Service Appointment!
If you're ready to experience the Mammoth Plumbing difference, complete our service request form below or give us a call directly at 281-398-1700 for your free estimate!
Plumbing Emergencies Don't Always Happen from 9 to 5.
Common Plumbing Repair Services
With your home plumbing system being such an essential part of your daily routines, it's quite common to occasionally experience issues. Our plumbing repair services are crucial for maintaining a functional and efficient plumbing system in a home while preventing water damage and ensuring the health and safety of you and your family.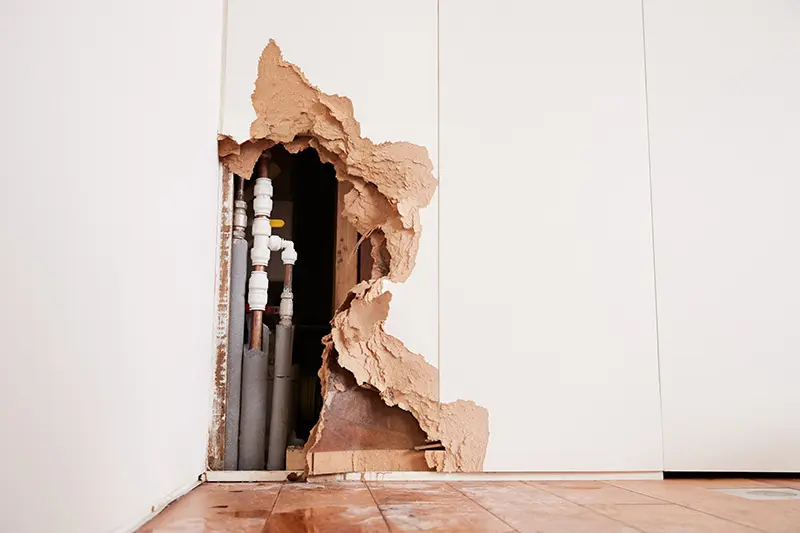 Fixing leaks in pipes, faucets, or fixtures to prevent water wastage and property damage.
Clearing blockages in sinks, toilets, showers, and tubs to restore proper drainage.
Addressing issues with water heaters, such as heating element replacement, thermostat adjustments, or fixing leaks.
Repairing or replacing burst pipes to prevent water damage and flooding.
Fixing damaged or blocked sewer lines that can lead to sewage backups.
Repairing or replacing faucets, toilets, showers, and other fixtures that may be leaking or malfunctioning.
Fixing damaged or corroded pipes, including copper, PEX, CPVC, and galvanized steel.
Addressing issues with jammed or malfunctioning garbage disposals.
Repairing gas line leaks or damaged gas pipes to ensure safety.
Diagnosing and fixing problems related to low or inconsistent water pressure.
Shut-off Valve Replacement
Replacing old or faulty shut-off valves to control water flow to fixtures or appliances.
24/7 emergency services for immediate plumbing issues, such as burst pipes or sewer backups.
Excellent
4.6
★
★
★
★
☆
Based on 23 reviews from
review us on
Angel Fultz-Smith
★★★★★
Mammoth Plumbing has been my go-to plumber for the past few years. They have solved minor problems related to clogs, sinks, and the water heater, and they also installed the gas line for a stand-alone home generator. Their pricing is competitive and reasonable, and I trust them to be honest when assessing a problem. Jon and his team conduct their business with integrity and transparency, and I have recommended them to friends and clients over the years. They're fantastic and I cannot recommend them enough.
Response from the ownerThank you ms. Fultz-smith for the review it's always a pleasure working for such great clients, thanks for the referral.
Steven Garza
★★★★★
Great and fast service.
Response from the ownerThank you for your business Mr. Garza.
Nicole Garrett
★★★★★
This is a fantastic company that we have worked with for many years. They are responsive, honest and well priced.Such a pleasure to work with.
Response from the ownerThank you for your business Mrs. Garrett, it's always a pleasure working for wonderful people!
John Murphy
★★★★★
I use Mammoth for both personal and our Church repairs, starting using then in 2017 when they replaced our house after the flood,
Kelin Bower
★★★★★
Fast, fair, courteous, and professional. Highly recommend them. There should be a 6th star.Update. We had some serious under-slab plumbing issues. They were able to accurately diagnose the issue where other companies had failed. They put everything back as it was, and even added some smart clean outs and tie-ins for future plans. The most impressive part was though was how much the hustled to get it all done. They even sent my wife flowers when they learned she had gone into labor. Absolutely amazing.
Response from the ownerthank you Mr. bower, we really appreciate your business!
John
★★★★★
I just wanted to send you a big shout out for great service. Jimmy came out to look into my washing machine waste line which also has my drain from the AC unit and it had been slightly overflowing. I first used a safe drain opener to possibly open the line, but in addition wanted to have it looked at to make sure everything was okay. He did an outstanding job scoping the line and found just a small amount of sediment on the walls. I just wanted to let you know that I will highly recommend your company to anyone needing quality professional plumbing work done!John
Response from the ownerThank you so much for your business and your patience, it was a pleasure working for you, I will pass this letter on to jimmy.
Kevin Ball
★★★★★
I had an under-foundation issue with my plumbing (an absolute nightmare) and this company was awesome. Very professional, obviously knew what they were doing, and the owner had a great way of making me feel like he would solve the problems and calmed me down. It was a major project and they did a great job and the warranty is outstanding. I can't say enough good things about this company. I had 5 other quotes and this one was by far the most professional and expert in this area.
Response from the ownerthank you Mr. ball, it was a pleasure working for you.
Jeremiah Fisher
★★★★★
It was warranty work, but they were prompt and professional. No Complaints. I will go back if I have plumbing needs.
Response from the ownerwe appreciate you very much mr. fisher! thank you for your business.
Daniel Applegate
★★★★★
They do good work at a reasonable price
Disiere James
★★★★★
Great Service
debbieg555
★★★★★
Great response, great rates.
Response from the ownerthank you for your review!
Dierke Hobbs
★★★★★
Price was more than fair, and the work was done when scheduled. We are very pleased with the job.
Response from the ownerMr. Hobbs thank you for your business, it was a pleasure meeting you and working for you!!!
YL
★★★★★
Integrity. Honesty. Genuine care. Highly recommend!
vijet chuon
★★★★★
Mammoth is the best when it comes to Rinnai tankless water heaters. Ron was on time, professional, and brutally honest about issue. He was able to troubleshoot and found the root cause of why my water heater was acting up. Definitely will use them again and please give Ron some recognition!
Kevin Mellor
★★★★★
West University
Gary Leger
★★★★★
I had called a different company that charged a big service fee and did nothing to fix the problem. However mammoth came out fast and on time and readjusted the work I had done and got the water heater started in 10 min. Michael was great. I will used them before anyone else in the future. Awesome company!
Response from the ownerthank you for your review Mr. leger, we greatly appreciate your business.
Carey Tise
★★★★★
I had great service, Mammoth called before coming out and gave me a window of when they would be there so I could plan. They arrived as promised and installed a new hot water heater in the upstairs attic. They disposed of the old hot water heater so I did not have to deal with it. Their pricing was great and billing was the amount they promised, with no hidden charges. Great job!
The Houston Plumbing Repair Team to Call
At Mammoth Plumbing, serving the Houston Metro area with pride since 2008, we are your trusted partners for all your plumbing repair needs. Our team of factory-trained and certified plumbers is dedicated to delivering top-notch service with professionalism and expertise.
With our fully stocked service vehicles and unwavering commitment to quality, we tackle every plumbing issue with precision and care. We stand by our work, offering comprehensive parts and labor warranties, ensuring your peace of mind long after we've completed the job.
When it comes to plumbing repair, choose the name you can rely on – choose Mammoth Plumbing. Contact us today at 281-398-1700 for your free estimate, and experience plumbing excellence that's second to none.